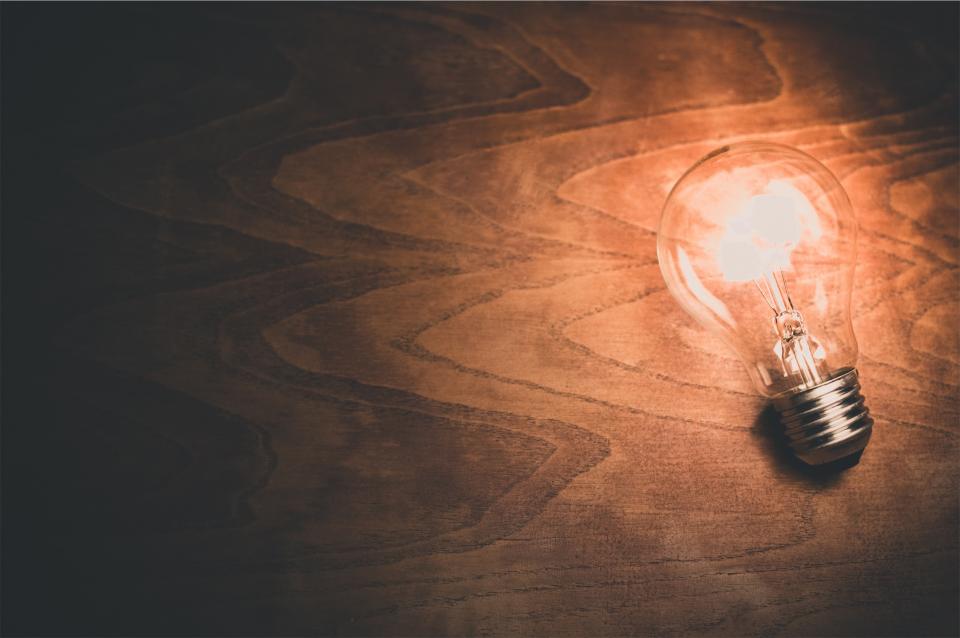 Images are the essential part of the web design. You need to select the correct image to tell your story and bring your design out.
There are plenty of companies selling stock images and you can generally find a suiting image to your need in those web sites. However sometimes there comes a point where you cannot afford the price. Thankfully there are several sites giving out free images and they can suit your needs.
Be aware of Licensing
Before we start our list please be sure of licensing of images. Not all websites offering free stock images will hand out the license you need so you better be careful about the licensing before you use them in your project.
Websites offering free stock Images
We have created the ultimate list of sites for you where you can find the images for your next project. All the websites in the list are sorted alphabetically not about quality or quantity.
Albumarium is a different approach to Stock photography the site is arranged into albums.
Name of the site might confuse you but they have great images about everything.
Compfight is an image search engine. To find free ones click Creative Commons on left pane and be sure about the license of the image.
Cupcake is the free photos supplied by Jonas Nilsson Lee.
Rouge Photographers Allie and David are sending you 10 images each mont direct into your inbox.
Photos by web designer Jeshu John.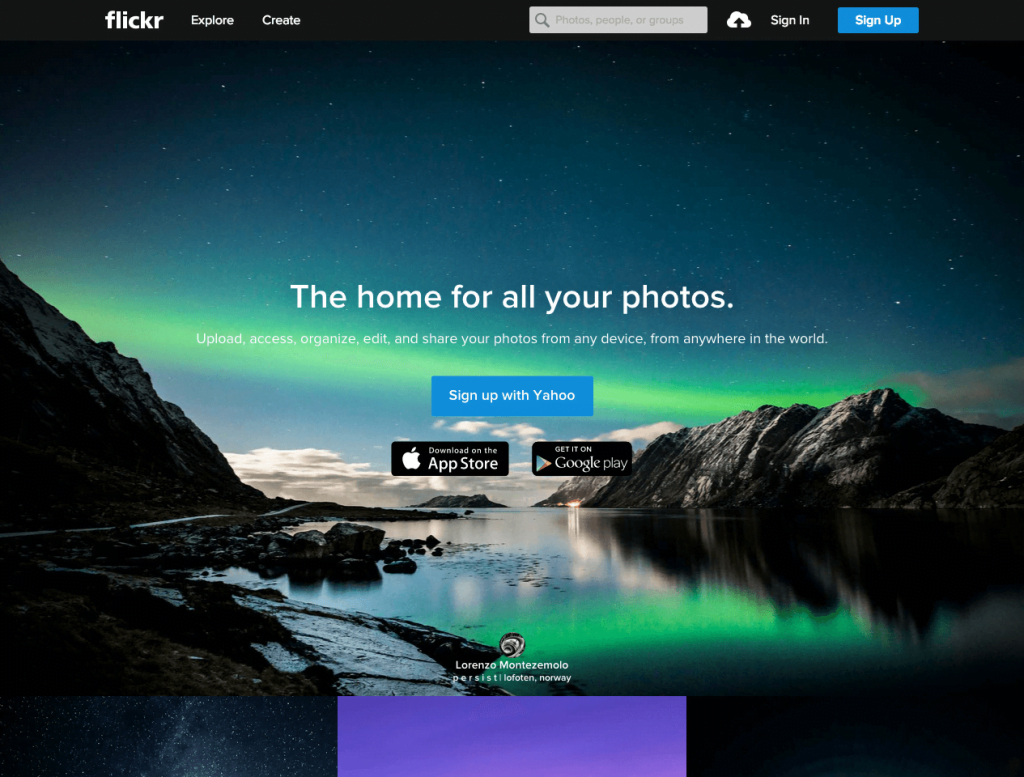 The biggest collection in the list is here their new search is better and faster. You can find almost anything but be careful about the image license.
The site has an extensive collection of food photographs. The license lets you do aalmost anything better check their site for more.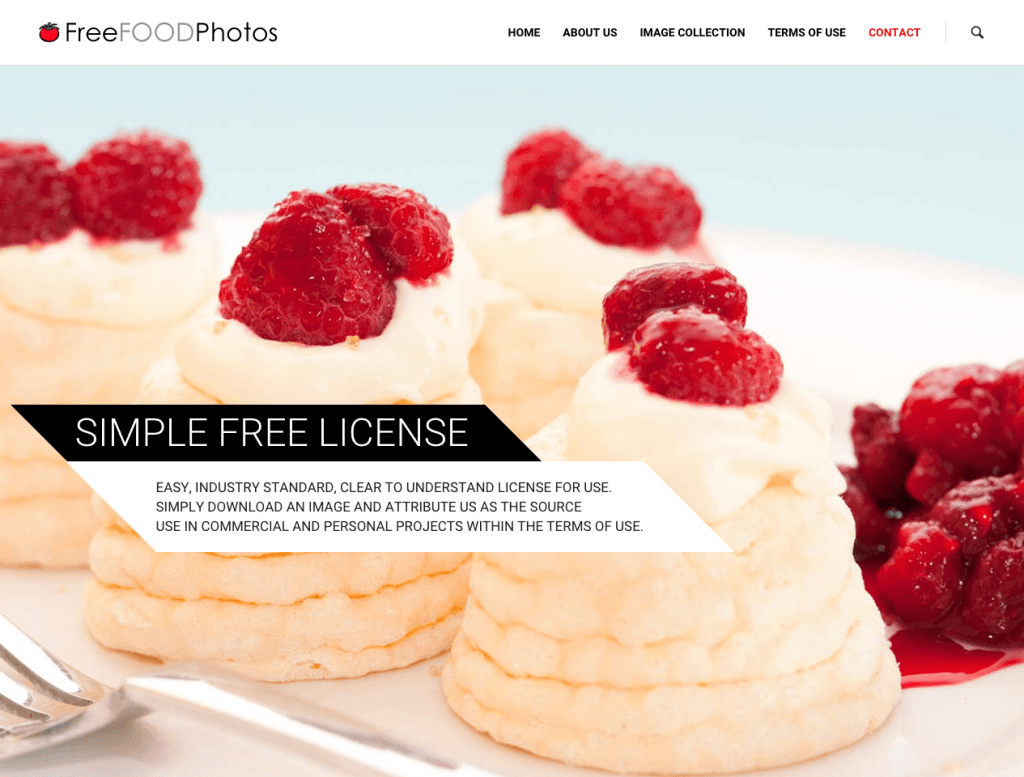 Delicious! The images are free to use for any purpose, commercial or noncommercial, as long as you provide attribution.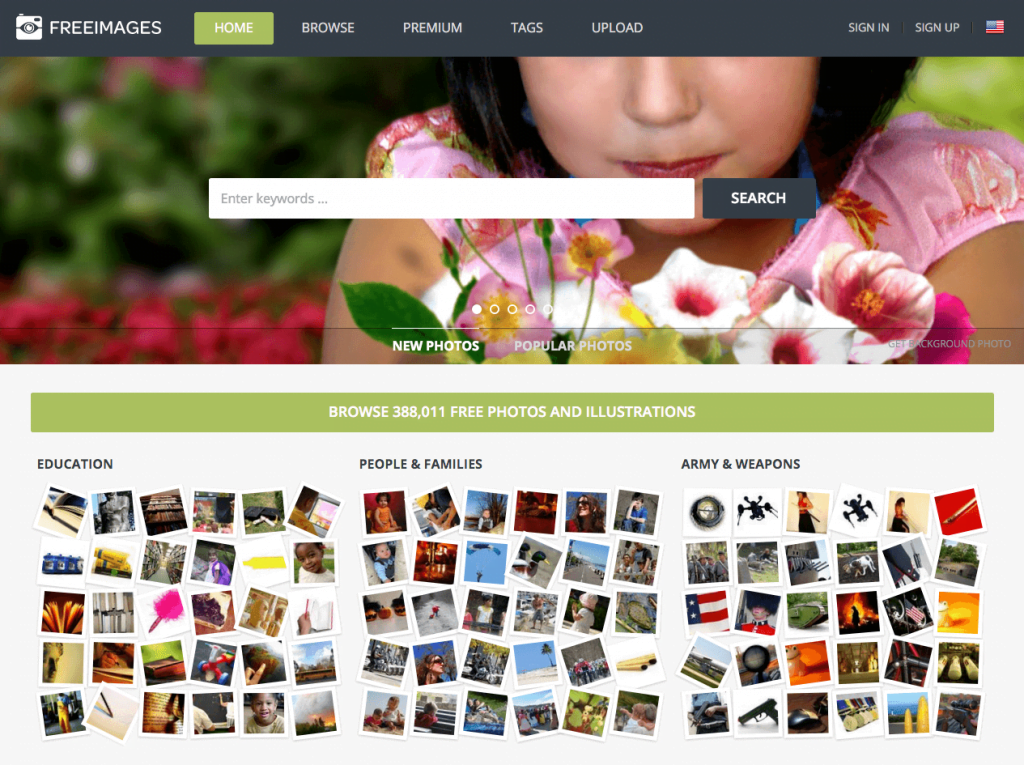 One of the biggest stock image markets Getty Images own the site. They have a huge collection and a good search engine to help you find the right image.
Daily updated nature photos.
Photos by Sosnowski family.
Free mobile photos taken by a series of photographers traveling throughout Europe.
Another nice collection of free photos.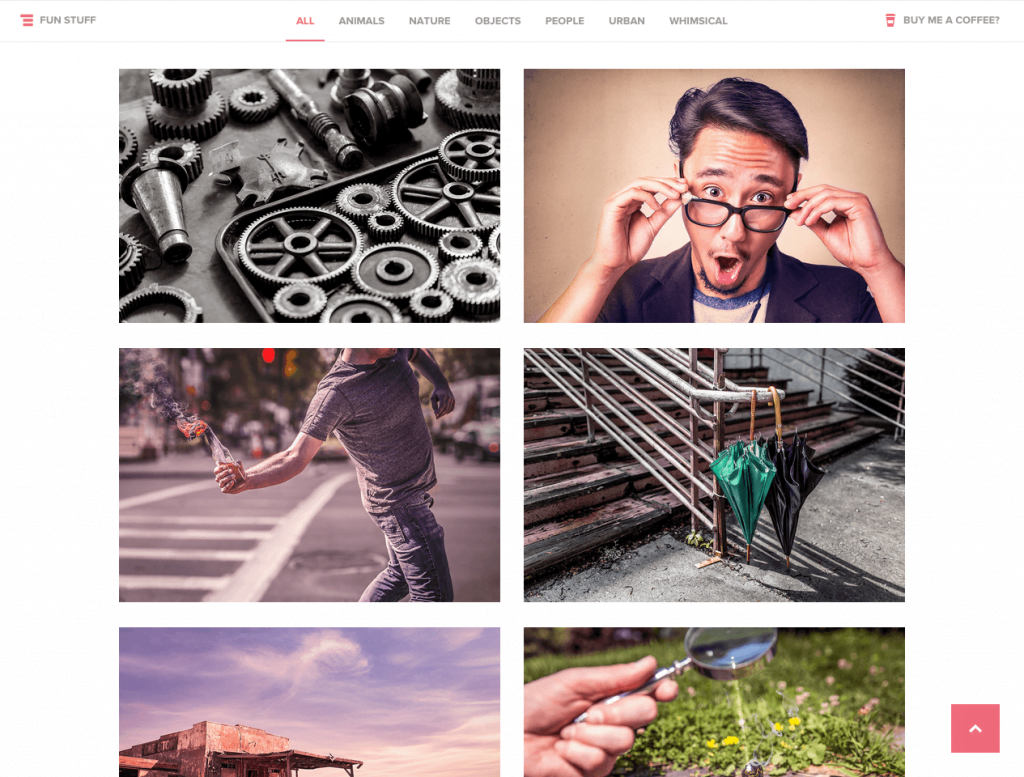 Gratisography offers free high-resolution pictures you can use on your personal and commercial projects. New awesome pictures are added weekly and are free of copyright restrictions. All pictures are captured by Ryan McGuire of Bells Design
A nice collection of images for web sites.
ISO Republic provides exclusive free stock photos for creatives founded in October 2014 by Tom Eversley.
7 new photos released every Thursday. "Do anything. Make magic." That's how Jay Mantri urges visitors to his site to use his images.
Jeshoots is another great site with free high-quality stock photos.
Karolina (site-owner) has created these images specifically for bloggers, small business owners and freelancers and she updates them daily.
Created by the LEEROY creative agency offering free high-resolution photos with no copyright restrictions. New pictures are added weekly.
The owner of the site Nic passed away and thus no longer provides new pictures. All photos that have been posted were released under the creative commons license public domain dedication
AJ Montpetit is giving back to the open source community by sharing his photographs under Creative Commons Attribution-ShareALike.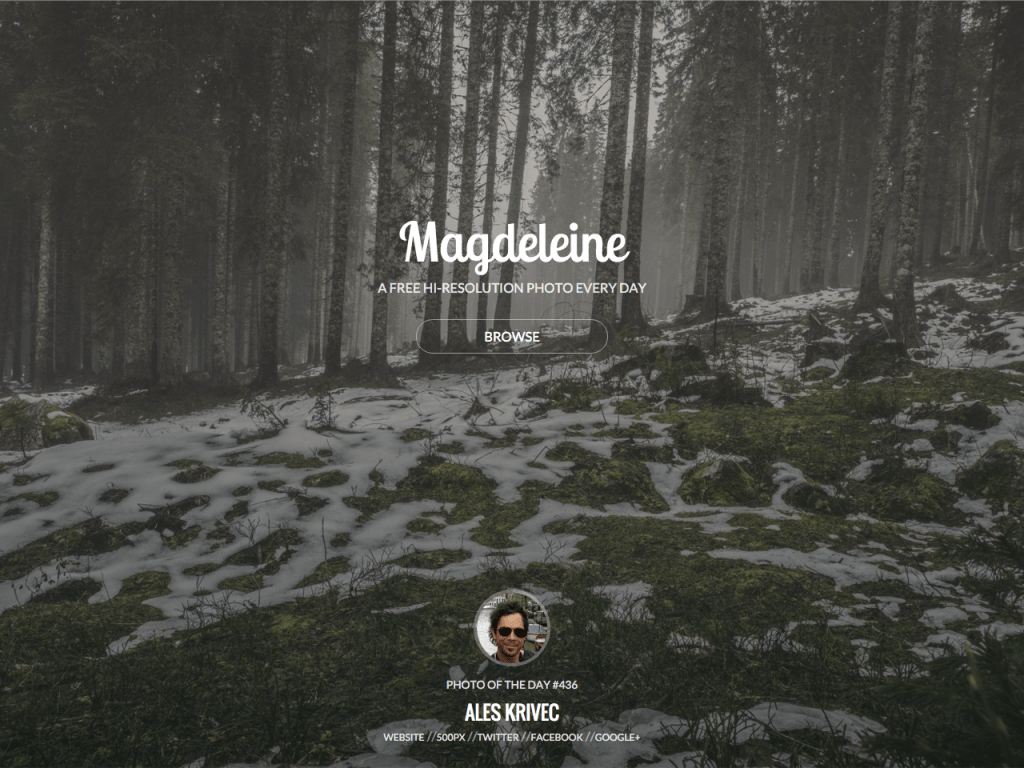 Instead of just searching by categories or licenses, you can also search via the dominant color featured in the pictures. Definitely a handy thing for designers looking to save some time.
Updated weekly with a lot of great nature and city photos.
Weird name.. The explanation by their wording : "A morgueFile is a place to keep post production materials for use of reference, an inactive job file. This morgueFile contains free high resolution digital stock photography for either corporate or public use."
20 new photos every week released under Creative Commons CC0. The photos are searchable and can be sorted.
Curated and created by Cole Townsend the site serves vintage photos from the public archives free of known copyright restrictions.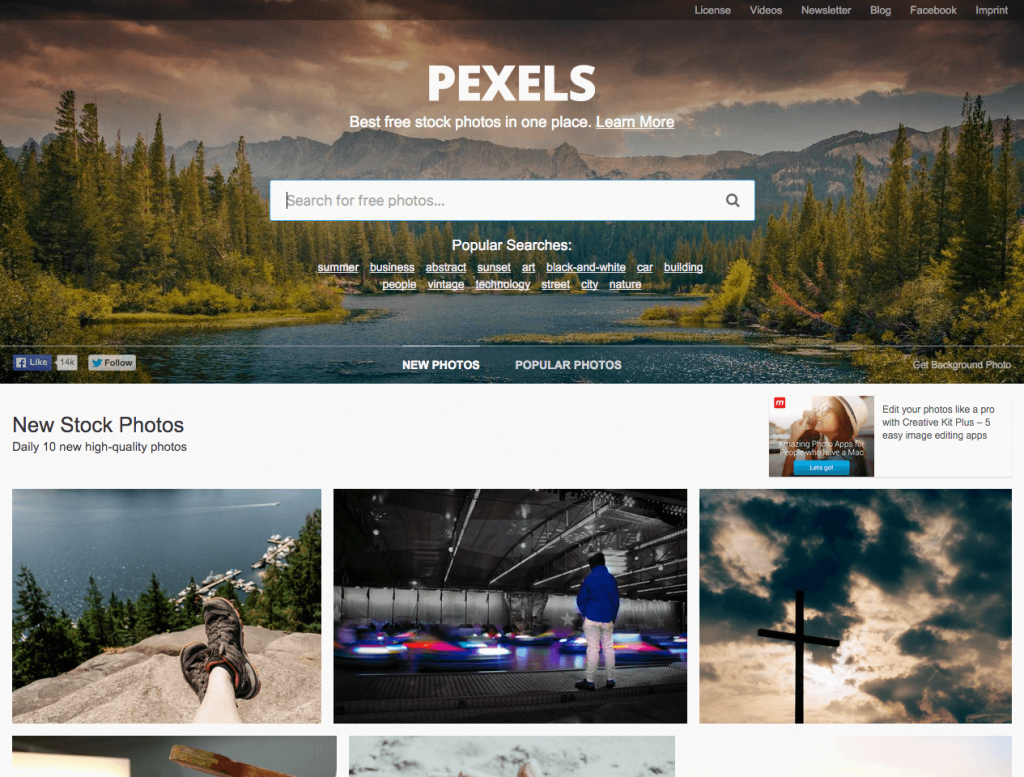 With ten new photos licensed CC0 added daily, Pexels' archive is growing fast.
Picjumbo is a collection of totally free photos for your commercial & personal works. New photos are added daily from a wide variety of categories.
Random shots offered by a handful of professional photographers.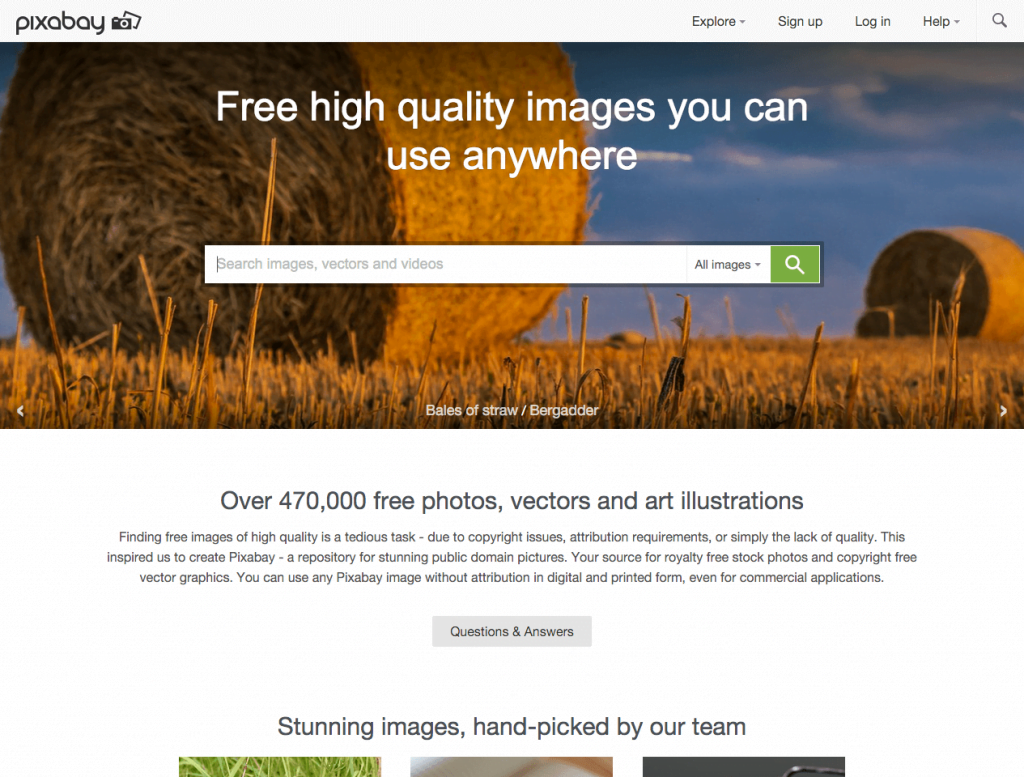 Pixabay is dreamy site for anyone who has a site or design business. They have ver 470,000 free photos, vectors and art illustrations!
Great CC0 licensed images by various artists.
An extensive collection of free stock photos without copyrights and they promise new uploads weekly.
Raumrot features a selection of photos that have been curated and handpicked for our convenience. There are plenty of different photos to choose from but make sure to give credit to the creator.
7 new photos every week.
Skitterphoto offers great photographs completely free to use.
7 free photos every 7 days. Photos are public domain and free from copyright restrictions.
Splitshire is a collection of free stock photos by Daniel Nanescu.
Images for stratups as the name suggests many nice images with macs and brick walls 🙂
StockPic is the project by Ed Gregory and is a great collection of photography by him. He sends out 10 new photos to his subscribers every two weeks. He allows you to do anything with images except from reselling them.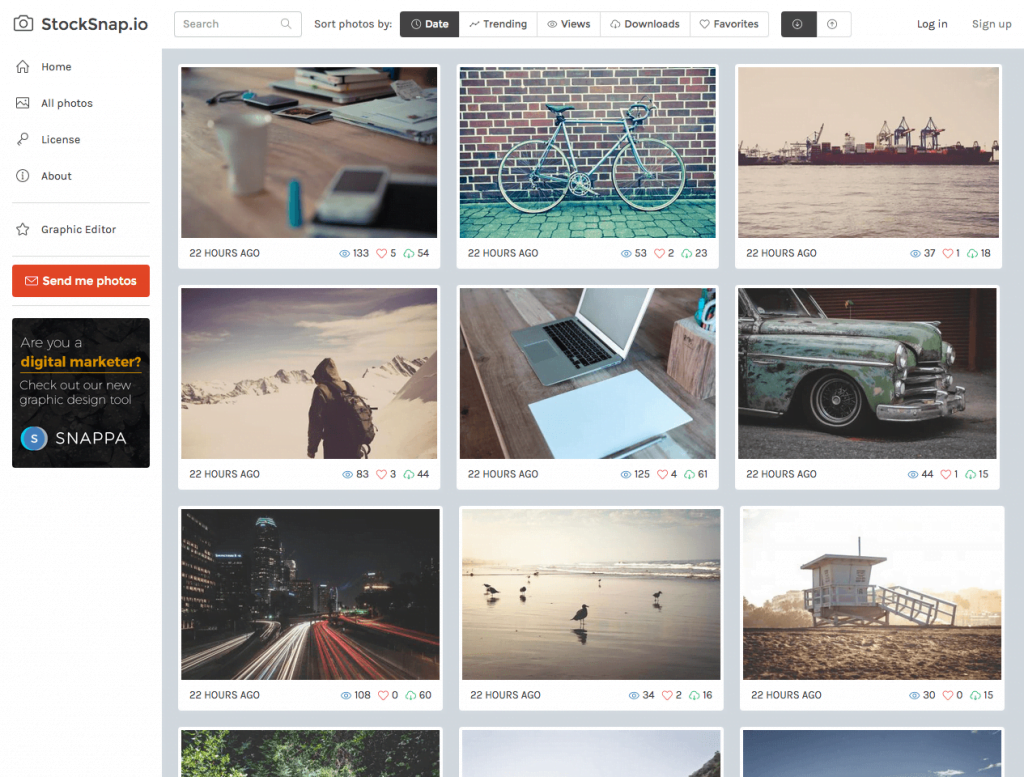 StockSnap.io has one of the largest selection of beautiful free stock photos and high resolution images. The site has a great search engine and also a mechanism shows downloads and visits of images where you can sort them by popularity. The site adds hundreds of new images each week and is a must to follow.
Superfamous is the Los Angeles-based studio of Dutch interaction designer Folkert Gorter. Images here needs attribution for use.
Tookapic stock is a marketplace for both free & premium stock photos. You can filter by free photos which are all released under Creative Commons CC0.
Photos shared by people from their travels definitely worth checking.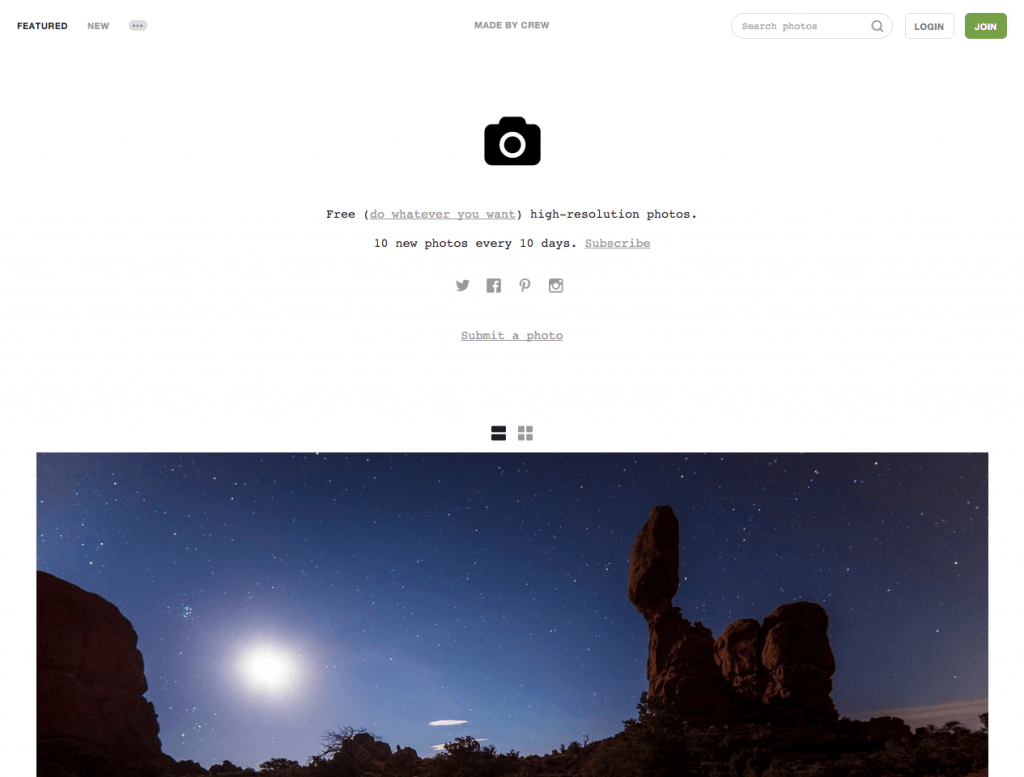 Unsplash is a collection of free high-resolution photos and they add 10 new photos in each 10 days
Do you know any other sites offering free images?
We tried to find and list all the sites in our Ultimate list if you know any site that we have missed please add them in comments we will try to update the list with your input.